This was the first year we dressed Taylor up for Halloween. She had seen a few cartoons leading up to the holiday, so she had a bit of an idea what it was all about. She was excited to dress up and get candy. It wasn't a surprise when she decided she wanted to be Sleeping Beauty. That is her favorite princess.
Remember this picture?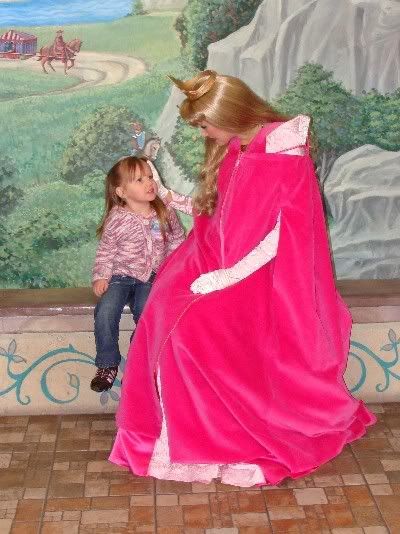 Yes, she was in awe. She still talks about meeting Sleeping Beauty and the first words Sleeping Beauty said to her, "Hi, little princess." Of course, Taylor is a mute until she warms up to anyone, especially her favorite celebrity, but that day she met Sleeping Beauty is still burned in her memory.
I'm not sure why she likes Sleeping Beauty so much. I always thought of all the Disney Princess movies, that one was more about the story than the princess herself. Sleeping Beauty is a baby, sobbing, in a trance, or asleep through 3/4 of her screen time. All the other princesses have character development and time to become endearing. I guess the dancing scene in the woods was all it took for Taylor to get hooked. The first song she knew all the words to was "Once Upon a Dream", and she sings it while she makes her Sleeping Beauty and Prince Philip figure toys dance. She even asks to dance with daddy while she sings it.
One day I will get a sewing machine and start making her costumes, but this year I bought an over-priced dress that began unraveling by the end of the night. I'm not sure I would have been ambitious enough to make a Sleeping Beauty dress anyhow.
(This picture was taken before I cleaned and painted her nails.)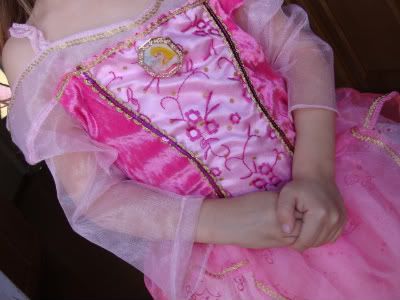 I was so happy to find these shoes in Target! I was concerned about the shoe situation, since I couldn't imagine her little feet walking around in large dress-up heals for 5 hours. I found these down a toy isle. They are actually play ballet slippers that I could fit around her own shoes. They passed wonderfully as princess shoes and solved our problem - nevermind that each one of them came untied and was lost as some point that night after holes were worn into the bottoms.
We didn't go trick-or-treating, but we did go down to our church's Fall Festival. Kennedy and I are in the media ministry, so I had to get there early (2:30 PM) to take some photos and video of the set-up.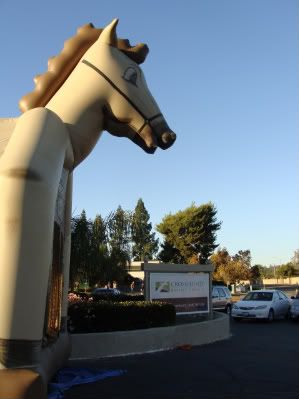 Needless to say, by the time the festival started at 4:30 PM, Taylor's crown was off and her curls were long gone. Then, it was all about the jumping...
And the games...

The craft table where she made a frame for her souvenir photo.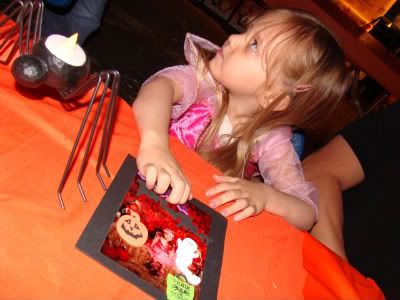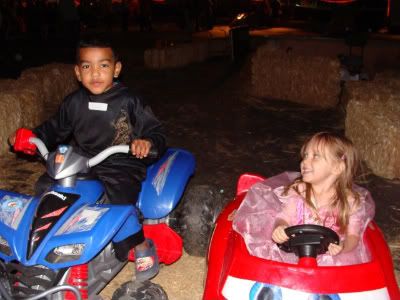 On the Tot Racing track with her friend, Coen. They got a souvenir picture taken together towards the end of the night that was hilarious. Taylor was missing a slipper and had sucker all over her mouth and in her ratted hair, and Coen had a silly look on his face.

This is Miss Heather. One of the young ladies that helps out in the Childrens Church. Taylor adores Miss Heather. She is so fun and always so sweet and gentle with Taylor. It takes a long time for Taylor to open up to people, and she is still a mute around Miss Heather, but she loves the attention from her. When we arrived early for set-up, Taylor wasn't expecting to see that Miss heather was now a pirate. She hid behind my legs like she never has before!
The Poway Fire Department brought a large engine out and judged the pie baking contest with our pastor. (Later, someone paid $500 to smash a pie in Pastor's face.)

Speaking of contests... we won the pumpkin carving/painting contest with this...

Now, it was a miracle that we got this perfectly shaped pumpkin. We didn't buy our pumpkin until the night before Halloween. We went to 2 grocery stores and they were out. Henry's had a a couple smalls ones and a couple knobby ones, but none that could possibly be used well for Cinderella's carriage. We shot over to Stater Brothers and they had about a dozen odd shaped, rejects left (most without stems), and there were 4 other people there rushing to find the best one. Now, we had already bought all the craft supplies for the project, so I was determined to find what I was looking for... and I did. This pumpkin was hidden between two boxes. The shape and the stem were PERFECT. I was so happy. Do you ever have those moments that you know God was blessing you? Well, this was one of those for me, like He had saved that pumpkin just for us.
It would have been nice if Taylor had dressed as Cinderella to go along with our pumpkin carriage and lost slipper, but I couldn't deny her the honor of being Sleeping Beauty.
(I managed to lose her crown, each slipper at different times, and our car keys that night at the festival. Amazingly, by Sunday morning, we had found everything.)