Taylor was the first to catch Strep. For her it was mild - a low grade fever and a couple complaints of "hair in my throat." She was over it in 2-3 days - just in time for her to enjoy Christmas. I was counting my blessings and praising the Lord that she didn't get a sinus, ear, or lung infection as a result.
So what does a princess do when she has Strep in her throat? She takes a hot, steamy bath and then has a warm cup of tea with honey, of course...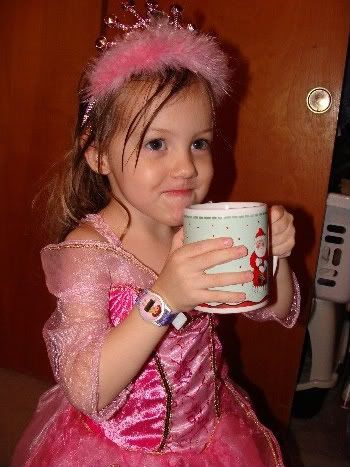 Kennedy and I weren't as lucky. I woke up Christmas morning with no voice and the most swollen, sore throat I have had in my life. Two days later I developed a double ear infection and then my left eardrum ruptured. I lost all hearing in that ear for about a week, and had constant drainage. My ears are slowing clearing up, but still feel "full." I don't think I have ever had an ear infection, or at least not that I can ever remember. Maybe my mom recalls one. A few days after that I developed pain in my kidney (post-streptococcal glomerulonephritis), which lasted a few weeks and is only just about gone.
Kennedy had his first vacation in 2 years and spent all of it sick as well. I recall we went to bed around 9 o'clock on New Year's Eve. Before we were even over Strep, Kennedy and I then caught something viral, which added sneezing, coughing, and nausea to our list of symptoms. That, at least, only lasted 3-4 days. I think we are in the clear now, but anyways, that is why I haven't posted to this blog since before Christmas.
So... the latest around here? Rain, and lots of it! It's a nice change. Our Southern California climate is usually so mild, and predictable. It's a rarity to get a tornado warning, but I heard one actually touched down in Huntington Beach, tearing off a roof and flipping an SUV. That's huge weather news around here! No tornados in Poway, but some significant wind and flooding, and church service was cancelled due to bad weather and flooding in the nursery. A little rain really turns our world upside down here. I imagine people brave snow storms for church service in Minnesota. We are quite dainty and spoiled I suppose.
Taylor wanted to play in the rain, at least until she got wet. The thrill of being out in the rain only lasted about 3 minutes, but it was enough time to snap a few pictures.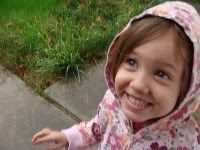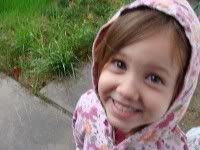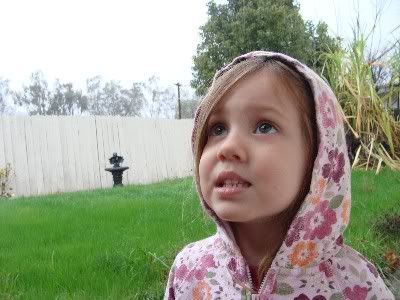 The sugar cane didn't fair so well in the wind and rain. Thank goodness, now it HAS to be dealt with. Since the wind knocked most of it down, it shouldn't be too difficult for my husband to finally rid our backyard of the eyesore. :)