I love this video. It's one of those things I would categorize under "a few of my favorite things". It incorporates the tropics, the guitar, and childhood curiosity and imagination. Watching this always makes me smile inside - that kind of feeling that reminds me there is still so much in life to experience and find magic in. The mundane day-to-day of adulthood can make you jaded and practical. It can make you forget that there are still dragons to slay, treasures to find, princesses to rescue, and a Prince who is coming soon to take you home to Paradise. This video is one of those seemingly unspiritual things that refreshes my soul.
This is Calvin. My sister, Torri, is holding him. I can't believe this photo was taken 10 years ago!
I got Calvin as a companion when I was first on my own at the age of 19. He was the cutest little fluffy thing. Of course, I should have known better after living with our long haired family cat that a little fluffy thing becomes a big fluffy thing that sheds. I guess it's just further proof that the reasoning centers of the frontal lobes aren't fully myelinated until age 25. Still, he was adorable, and probably would short circuit my reasoning skills even now. That's just what baby animals are capable of. I wish I would have taken pictures of him as a kitten, but that was before the age of digital cameras and the ease of uploading photos. I never considered myself a cat person, but my life during those years I had him was filled with a full work and college schedule, and wasn't conducive to having a dog that needed to be taken out to do its business and walked daily.
Sadly, after nearly 7 years together (4 years ago), I had to put Calvin to sleep. He developed a severe urinary tract infection with stones, and the only option was an expensive surgery that he probably wouldn't have lived through. It was very hard for me to say good-bye to him on that table, seeing him in so much pain. That night was the first night in seven years he didn't jump up on the bed and fall asleep with his head resting on the back of my knee. It was strange, I had gotten so used to it that for a while after he was gone I still felt that warmth on my leg as I fell asleep.
Calvin lived in 5 places with me during my college years. He was there with me during all those late nights studying. He hated when I studied, because that meant I wasn't paying attention to him. He would lay on my text books when I was trying to read, or on my notebooks when I was trying to write. He always begged to be pet, but usually only by me. He was even the star in one of my shorts that I made in film school. I paid him with tuna.
After Calvin was put down, I swore I'd never own another pet, and most certainly not another cat. I would remind myself of the face full of cat hair I'd get after drying myself off with a clean towel. That hair gravitated to everything and magically found its way into locked rooms and cupboards. I'd remind myself of the horrid litter box. After being gone all day on a schedule of work and school, I'd come home to several smelly gifts, some often thrown out of the box with a few kicks of litter. As much as I tried to keep it clean and made Glade a fortune, I still feared there was a smell I couldn't smell. What if I became that stinky cat girl who doesn't know she smells? But even if I could manage those things, mostly I didn't want to get attached again.
Then, a few weeks ago, I stumbled upon Maru. Maru reminded me of Calvin. Not so much looks, although they do have similar markings and coloring, but mostly his nuances and silliness. The way he likes boxes and sticking his head in things and leaping into the air despite some extra pounds around the middle. Something about Maru's blog was alluring. Before I came across it I would have laughed if someone told me they blogged about their cat daily and they had thousands of followers all around the world. Really? A cat? Has fans?
Yes, he does. He's very famous you know. Here is his
blog
. There are a lot of "copy cat" blogs that other Scottish Fold owners have created, but there can only be one Maru. He even won a trophy for most popular YouTube video in Japan. You can see it below. Suddenly I realized something. Maru revealed to me what I never would have imagined - that I was a cat person.
Six months ago my mom asked if she could get Taylor a kitten for Christmas. My answer was unequivocally, "no."
It is June and it's kitten season.
Meet our latest addition, Kora. She's not too fluffy.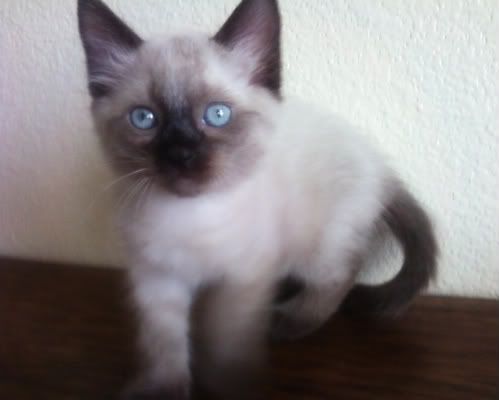 Kennedy said we could get her if he could name her. I feared a Star Wars theme, and although I wasn't opposed to the name Leah, he most certainly didn't want anything as boring as that. After mulling it over for some time, he came up with Kora (like the chef, Cat Cora, but with a "k"). Kora suits her, so I agreed.
She is perfect. Very playful and social. Craves attention. Gentle and sweet. She loves Taylor. I was worried Taylor's excited screeching and constant jumping would send her cowaring under the bed for days. But no, she doesn't hide at all. She loves being a part of everything and feeds off Taylor's energy.
We bought her a small scratching house that she claimed as her own right away. She took a couple short naps on top of it during the first day, so I was glad that she would probably decide to sleep there at night. One more being in our bed is the last thing we needed. Well, it was less than a minute after getting into bed and turning out the lights that she hopped up to join us. She picked a spot between Taylor and me. Poor Kennedy, we will have to rework this sleeping arrangement soon. Can't be good for a marriage. :)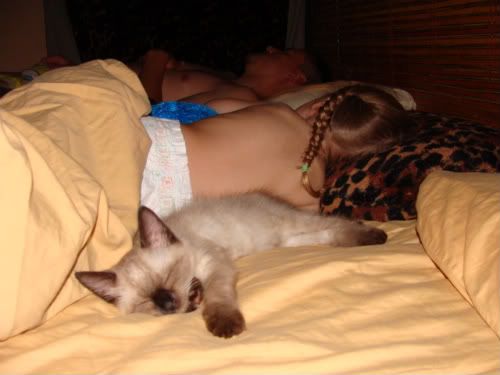 At 4:00 A.M. Kora tried waking Taylor up to play. She licked her face, nuzzled in her hair, and pounced on her feet. I think they will be great buddies.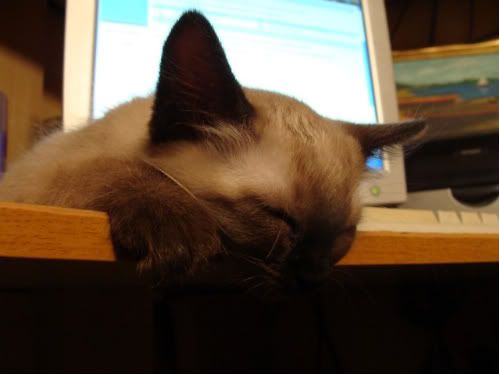 What happens to the cat of an only child...