Today I made some cupcakes for a small get together we were invited to for July 4th. I wanted to try something new. It had been awhile since I made cake from scratch so I went on the hunt for something that sounded delicious. In my search for something special, how could I pass up a cupcake recipe that claimed to be "famous".
And
it called for
lots
of strawberries. You can find the recipe for the cake portion
here
.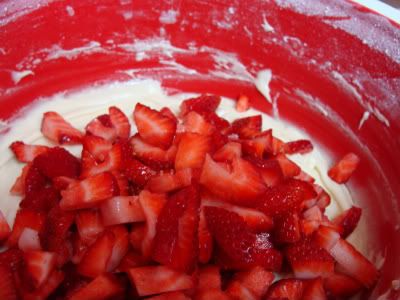 I made a cream cheese frosting for the top. The site on which I found the recipe for that had this to say,
"We all know the real reason why cupcakes are so popular. Cupcakes are basically an edible utensil for eating frosting."
Well I sort of agree, but really it depends on the frosting... and this is one of those frostings! I could have eaten spoonfuls of this if I didn't know it was a serious mixture of fattening butter, cream cheese, and sugar. Taylor, on the other hand, doesn't have to worry herself about those details yet. I made a couple batches and she got to lick all the whisks and spoons when I was done.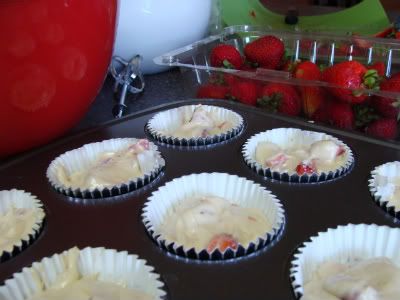 I couldn't wait for the first batch to cool before sampling a "famous" cupcake. One of the steaming strawberries seared my tongue as I bit into it... but it was oh so worth it! These things are heavenly!
Since all three of us have a major sweet tooth, I always have to make an extra batch of dessert just for us. Today that meant I made about 45 cupcakes. Luckily, I only had to decorate about 30.